OUR PHOTOBOOTH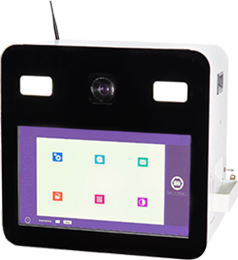 The Mini Booth is a connected Photo Booth.
Strike the pose in front of it and print instantly, your picture customized with the company colors. Easy way to create the buzz on your social networks !
This Photo Booth doesn't require a lot of space and is also easy to transport and to install. It is perfect to entertain party or a selling point. 
INSTALLATION TIME : 15 min
FLOOR SPACE NEDEED : 1m2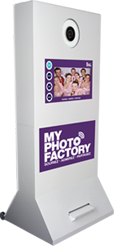 Baby  photobooth photocall
Compact and efficient, The MY PHOTO FACTORY Baby Booth is easy to set-up and can accomodate all spaces even the smallest. Boasting all major features of its big brother, it will bring a fun, social and hi-tech animation to your event. User Friendly, the Baby Booth can be « self operated » with its front facing touch screen. It allows instant sharing of all your shots via e-mail or social networks. With a wide array of services, it adapts to all events and all budgets.
INSTALLATION TIME : 1h
FLOOR SPACE NEDEED : 2m2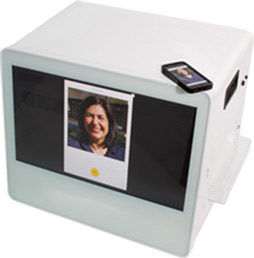 Our Brand New Selfie Print Booth, is an independent, connected printing station.
Take a selfie with Instagram and add the event's hashtag to it;  and your guests will be able to retrieve a printed copy, on photographic paper, customized with your selected overlay, in a matter of seconds.
Thanks to Instagram, you'll be able to create digital buzz around your brand and/or event, as well as providing your guests with a physical souvenir they'll be happy to show their friends.
The selfie Print Print Booth can also be used for you to receive and print all the pictures taken by our professional photograph during your event.
Easy to transport, you can set it up on any table or counter, but also on its own stand, the selfie Print Booth is ideal to put a spark to parties or outlets.
SET-UP TIME NECESSARY : 10 MINUTES
FLOOR SPACE NEEDED :  1m2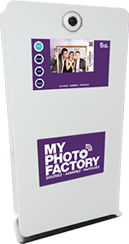 Prestige photobooth photocall
Elegant, Hi-Tech and user friendly, the MY PHOTO FACTORY Prestige Booth is the original animation that is sure to draw and delight all your guests. With its dual screens, the front one being dedicated to framing and shooting and the rear facing one displaying a slideshow of your event, our Prestige booth delivers a high end performance and level of satisfaction. Fully customizable to suit every event needs, in terms of visual appearance as well as digital approach, being used for data collection, the Prestige booth is a great marketing tool.
INSTALLATION TIME : 1h30
FLOOR SPACE NEDEED : 3m2